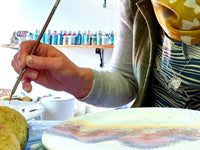 Persabus Pottery
Welcome to Persabus Pottery, Islay.
LAST ORDERS FOR GUARANTEED CHRISTMAS DELIVERY TUESDAY 12TH DECEMBER
The unique designs of the pieces are inspired by island life, capturing the moody colours of Islay's huge open skies, Hebridean landscape and vibrant seascape. Each piece is hand painted, before being glazed and fired at Persabus. An original piece of art for you to enjoy.
A warm welcome awaits you at our Islay Pottery Studio or buy online.
Studio open
Tues-Fri: 12noon - 4pm
Sat : 12noon - 3pm
Enquiries and Pottery orders