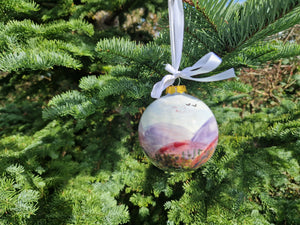 Feasgar, capturing the magical colours cast across the Hebridean landscape as the sunset in the huge skies above.
Bring a little Islay magic to the festive season with our baubles inspired by the Hebrides.
Prices are for a single bauble.
Dimensions: 10cm
Each bauble is individually hand painted before being glazed and fired on our kiln, therefore each one is unique and individual. Patterns and colours will vary slightly.
(I can do any of the shapes in any of the ranges so please do get in touch if an item is sold out or you would like a different design)